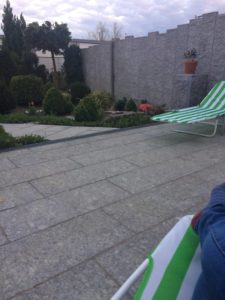 I mentioned earlier that we moved to a neighboring town. Our lease required three months notice before moving and in order to get the new house, we needed to take over before that time period ended. That's not terribly unusual and we knew that was in the contract when we signed it.
So, this means our contract with the old apartment didn't end until April 30. Because there's nothing more fun than procrastinating, we weren't ready to do the handover until late April. But we did, and now we're done, and woo-hoo–we only have to pay rent on one house.
All that is not surprising, but the whole move out process is a bit different. Here are a few things.
Light fixtures don't come with the apartment. I still find this super odd. When you go look at a house, you'll see single lightbulbs hanging from the ceilings. You're expected to provide your own light fixtures. Now this is all fine and good because now I don't have to buy new ones for the new house, except the house is very different, and therefore, I'm stuck with some light fixtures I don't need, and still have to buy new ones.
I would have been happy to leave all the old light fixtures for the next tenants, but that's not how it works. It's a bit of a pain.
On the other hand, I'm thrilled that it's not like much of Germany where you have to bring your own kitchen. Talk about a waste! Kitchens are generally custom so you spend a fortune putting in a kitchen, and a fortune tearing it out, and it won't fit in your new kitchen!
Cleaning. Every time I moved in the United States, the requirement was that you left the place "broom clean." Not so in Switzerland. You leave that place spotless. And by spotless, I mean you're expected to take q-tips to clean every millimeter of the rubber around your windows. They are super duper picky. I knew that my lousy American standards would not ever meet their standards–plus, it's just not worth my time to do that level of clean. So, I asked the management company for a recommendation for a cleaning firm. They did and I hired that firm to do the cleaning.
Their cleaning, which made this 1980s era apartment absolutely sparkle, wasn't sufficient. Fortunately, this firm offered a guarantee, so they had to come back and re-clean. Seriously, I don't know what they missed. But, like I said, I'm an American.
The Checkout Involved 7 People. There is no such thing as giving the apartment a quick check, handing over the keys, and going on. This is a multi-hour process that involved measuring the apartment. Why? I have no idea. Did they think we had shrunk the apartment? Or slowly pushed our walls out, making our apartment bigger and encroaching on our neighbor's space? They used lasers to measure, which my brother the real estate appraiser assures me are standard and fun. I now wish I could measure things with lasers.
The Costs. Moving costs everyone, but the Swiss have rules about it. (The Swiss love rules.) For instance, landlords are required to repaint every 10 years. But if you move out after 7, you have to pay 30 percent of the cost of repainting. If you're there 10 years, you pay nothing. There are rules about when floors have to be refinished, windows have to be replaced, and how long appliances should last. So, if the rules say a refrigerator should last 10 years, but yours dies at 8, the landlord is only obligated to pay 80 percent of the cost of a new one. (Note: I don't actually know what the rules for refrigerators are.)
Finding the Next Tenants. When I was looking for a new home, almost every apartment/house I looked at was empty. That's because landlords don't typically start advertising their homes until the last tenant has moved out. The ones I did see with humans still living there were ones where the tenants were hoping to find new tenants to cover the rest of their leases. It certainly is easier from a renter's perspective–you don't have to do the hurried clean up when you get a call saying someone is coming to see the apartment. But, from a house hunting perspective, it's kind of a pain. Because the apartment is already empty when you see it, the landlord is anxious to get someone in. The market where we live is pretty tight, which means you don't want to give notice on your old place until you have a new place, but the new landlord wants the lease to start immediately. That's how we ended up paying two months of double rent.