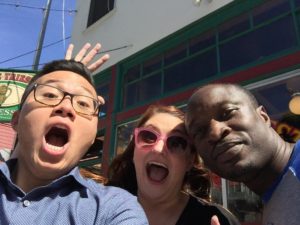 I'm not a huge fan of team bonding activities, largely because I'm an introvert who hates games. Okay, not all games, but I don't want to play volleyball or go rock climbing, or play flag football, and frankly, no one wants me on their team anyway. Everyone wants me on the other team, of course, because I'm horrible at team sports. I also don't want to tell people my deep dark secrets or fall backwards and have someone catch me. No thanks.
But, not all team bonding activities are made the same, and I found one that I would like. Sure, if you enjoy falling backwards into a team member's arms, skip this article, but if you want to get to know your coworkers and have fun doing it, keep reading.
Strayboots says that they do "team building activities done right," and it seems like that's the case. Strayboots does urban scavenger hunts to help your team come together. It's got something that introverts like me like (problem solving), and sportsy people like (being outside and walking around), and it can be fun for everyone. Now, in the interest of full disclosure, I haven't done a Stayboots scavenger hunt, but CEO Ido Rabiner walked me through the process and gave me a demo.
Here's how it goes: If you're lucky enough to live in one of the 40 US cities where they have established hunts, you can schedule a scavenger hunt. You all meet and divide into teams. Each team logs onto the Strayboots app and is given their first clue. Then everyone is off and running.
All teams have to answer the same questions, but not in the same order. It's not just "go here" or "go there," but you have to solve genuine clues and answer questions. Sure, you can Google some of the answers and cheat (which, ahem, I did, but only because Ido refused to fly me and my 25 closest friends to one of their cities. Rude), but why would you want to?
Some of the clues require you to solve a problem; some require you to go to a spot to get specific information. Some require you to take a picture of your group in front of a landmark. You can see from the pictures on their website that people are having a great time.
But why pay for a scavenger hunt when you can make your intern put one together for you? Well, first of all, your intern isn't an expert, and Strayboots people are. They hire historians and people with art history degrees and people who are very into travel. They also do regular checks to ensure that no needed street is closed for construction and that the building you need to get into to solve a clue is open and willing to help your team with their answer.
It's also not just about a scavenger hunt; it's about learning about a new area. For example, they did a custom hunt for a company that was moving their headquarters to Jersey City. The employees got a chance to learn about their new environment in a fun way. Universities have used Strayboots scavenger hunts as part of their new student orientation. It's a great way to learn about your new environment.
They see that 95 percent of the teams are following the instructions and using hints and sometimes even skipping challenges—this means people aren't just standing around Googling. They are taking the challenge seriously, which means that it's a lot more fun.
Now, even if you're a crabby pants introvert as I am, who can resist a fun scavenger hunt? I even begged Ido to bring them to my city. He said he'd think about it. (Note to Ido: we have tons of expats here in Basel, so lots of people needing to learn their new environments, hint, hint.)
This post brought to you by Strayboots. The opinions are completely mine.