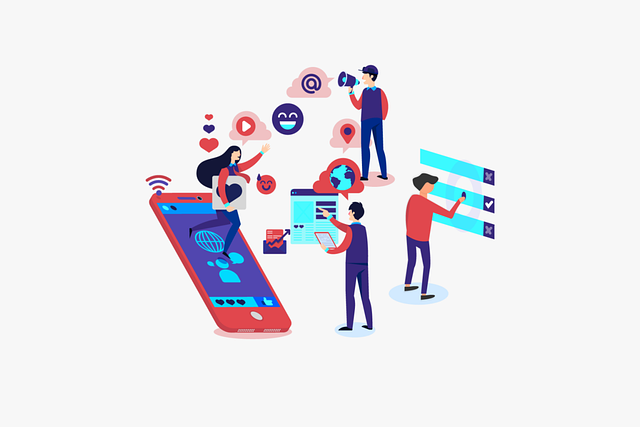 Social media is fun. I'm a heavy user. But, as an HR person, I have to remember that what I say on Facebook or Twitter can affect me professionally.
While I will tell HR people to ignore employees' social media posts, I will tell them to monitor their own posts. (Trust me, if one of your employees says something horrible anywhere, their coworkers will rat them out and let you know. You don't need to monitor.) But, HR? Everyone monitors you all the time. If they can't trust you on the internet, they won't trust you with their development plans.
This becomes a huge issue during election years with HR people confidently tweeting out how stupid/immoral/evil people who support the other candidate are. They are confident that they are right, and everyone who matters agrees with them. They don't stop to think that they've just told approximately 50 percent of their employees that the employees are stupid/immoral/evil. Would you report sexual harassment to someone who just announced on the internet that she thinks you're evil?
It's a huge impediment to your success. I know that you think you can separate your politics from your investigations, but your employees will have a hard time trusting you if they think you hate them.
Thankfully, it is not a presidential election year, and we can all take a deep breath and hope the sweet meteor of death finishes us off before 2024. But, in the meantime, there are plenty of other terrible things you can tweet. Like this tweet from a recruiter.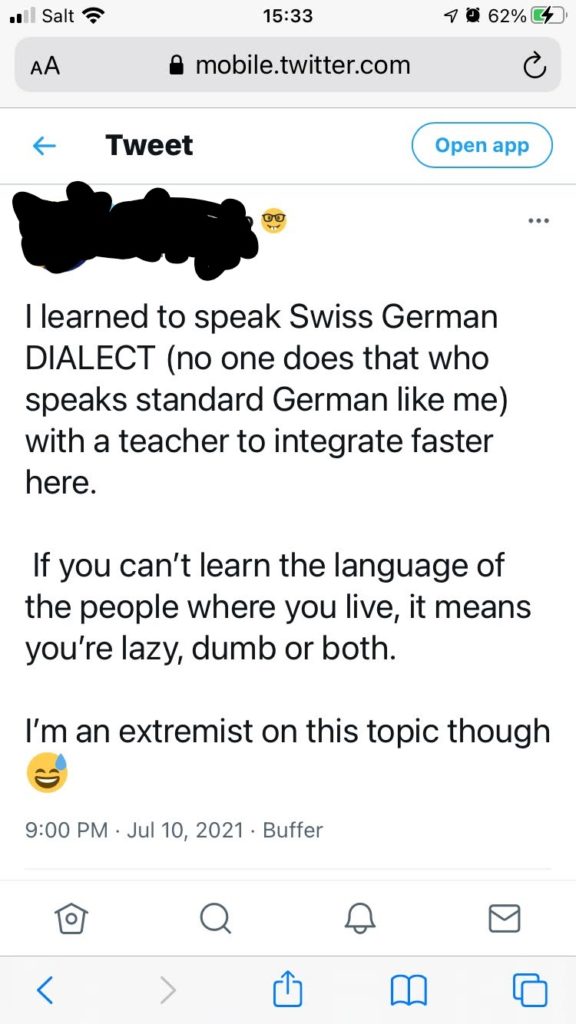 Let's impact how this could be damaging to his career.
He's a recruiter, which means his whole livelihood depends on building relationships with candidates and hiring managers.
He's a recruiter in Switzerland, in a city that is 32 percent foreign.
Most of these 32 percent foreign people do not speak the local dialect. Many don't speak German at all or just at a basic level.
He just called 32 percent of his potential candidates and clients dumb, lazy, or both.
He demonstrated that he has no empathy for others.
Learning a dialect of your native language is infinitely easier than learning a dialect of your second language. I speak pretty good standard German (although offspring #2 informs me that I sound mad when I speak it), but I don't speak the local dialect. I do understand the local dialect pretty well, but I don't speak it. Learning a second language is hard, especially if you do it as an adult and you don't use it that often. Many big companies operate in English, so you aren't speaking German at work, and if you do, it's high German for formal things. Why? Because Swiss German doesn't have a standard written form. Nor is there one Swiss German dialect. There are hundreds, if not thousands. Some people will refer to a standard german as "Schrift Deutsch," meaning "written German." If you want to read the newspaper, review a contract, or help your kid with his homework, you do that in standard German.
Now, I get that he wanted to brag that he went the extra mile to integrate and took it upon himself to learn the dialect. But, what he did instead is look like a jerk.
I don't know if he's a jerk in real life. Maybe he's super compassionate. Maybe he helps refugees learn high German on the weekends. Maybe he doesn't truly believe people who don't learn the local dialect are lazy or dumb; he just thought it would be funny. I don't know.
But I know that if someone asks me to recommend a headhunter, I'm not recommending him. Can I trust someone like him to help find a candidate that may or may not be a native Swiss? No. I can't. Does he treat his non-dialect speaking clients fairly? Probably. Would I trust that enough to recommend someone hire him? No.
HR, watch your social media. It only serves to benefit you.
Image by Joseph Mucira from Pixabay