Dear Facebook,
I'm actually an adult. I realize that not everyone on your site is–but really, it's where us old fogies hang out. As such, I don't need a parent, or a teacher, or a human resources manager to monitor things for me.
See, it's totally creepy when you started asking if every post was hate speech. My nephew's fly away Count Olaf style hair, for instance, is hilarious, but not hate speech.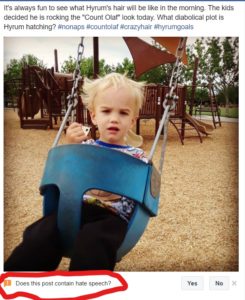 And this article by Braden Bell, about how we should be nicer to each other on the internet, is really not hate speech. And kind of ironic that you would ask.
To keep reading, click here: Dear Facebook, I Don't Need You to Protect Me from Hate Speech