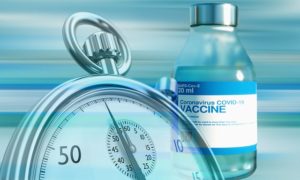 For the past month, my Facebook feed has been filled with pictures of people's COVID-19 vaccine cards or their Band-Aid-bedecked arms. And this week, different pictures started to appear: People with their arms around their elderly relatives.
COVID-19 ripped in-person interactions away from all of us, and we're happy to get back to hugging and handshakes slowly. And while we know that our family members are waiting for us with open arms, what about our coworkers?
Employees who have been working remotely for over a year now are starting to trickle back to their offices. Meanwhile, essential employees who worked in-person through the worst of the pandemic might even feel brave enough to revive a handshake here and there.
Still, interactions at work can be awkward. The CDC recommends masking and social distancing unless everyone in the room is fully vaccinated—are you really going to pry into someone's vaccination status when you schedule a meeting? How do we return to normal at work? Do we keep elbow bumps forever?
To keep reading, click here: As Vaccinations Take off, Here's How to Plan to Return to the Office
Image by Gerd Altmann from Pixabay