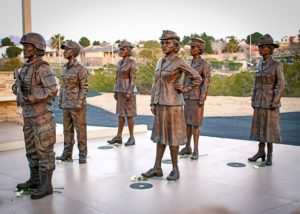 A reader asks:
We hired a new director about 3 months ago. Things haven't been going well. As a result, this person recently received a verbal counseling and performance improvement plan, as some serious concerns regarding performance and behavior have been brought up from numerous sources. A few hours after the counseling, I received an e-mail from this director stating they are a vet with a confirmed 70% impairment rating. Many of the issues addressed in the counseling were part of their disability.
I have started the interactive process. I'm asking for physician certification for PTSD and suggestions from the employee for potential accommodations. That's all well and good. My larger concern is this – how do we proceed if there aren't reasonable accommodations? If I have a director with emotion and impulse control regularly underperforming, showing zero engagement in learning and owning their department's tasks, or yelling at and upsetting their direct reports. Still, those are protected symptoms of the disability; how do I even begin to proceed? Can I still address the behaviors as performance concerns?
We are a small organization, and transferring this person to another position is not an option. I want to do what is right for the individual, but I also have to protect the company's interests, and I do not see a clear path to do both. It is really keeping me up at night!
This is a complicated and difficult situation for everyone. You don't want to terminate someone, and you undoubtedly feel even more strongly about a vet with a disability. And, while I hate to bring it up, it could also be a PR nightmare. (Local company fires disabled vet after he reveals his disability! More at 6:00!)
But, the Americans with Disabilities Act doesn't require that you continue to employ someone who cannot do their job. The law requires that the employee do the job's essential functions, with or without an accommodation. If there isn't a reasonable accommodation that allows them to do the essential job function, you can terminate them.
The EEOC breaks the accommodations down into three areas:
"(i) modifications or adjustments to a job application process that enable a qualified applicant with a disability to be considered for the position such qualified applicant desires; or

(ii) modifications or adjustments to the work environment, or to the manner or circumstances under which the position held or desired is customarily performed, that enable a qualified individual with a disability to perform the essential functions of that position; or

(iii) modifications or adjustments that enable a covered entity's employee with a disability to enjoy equal benefits and privileges of employment as are enjoyed by its other similarly situated employees without disabilities."(4)
Your new director's veteran status also offers protection. I don't pretend to be an expert on USERRA, but the EEOC says this:
While the ADA requires employers to make certain adjustments for veterans with disabilities called "reasonable accommodations," USERRA requires employers to go further than the ADA by making reasonable efforts to assist a veteran who is returning to employment.
AskJan suggests some questions about accommodations for people with PTSD that perhaps neither you nor your employee has thought of:
What limitations is the employee experiencing?

How do these limitations affect the employee and the employee's job performance?

What specific job tasks are problematic as a result of these limitations?

What accommodations are available to reduce or eliminate these problems? Are all possible resources being used to determine possible accommodations?

Has the employee been consulted regarding possible accommodations?

Once accommodations are in place, would it be useful to meet with the employee to evaluate the effectiveness of the accommodations and to determine whether additional accommodations are needed?

Do supervisory personnel and employees need training?
Now, that's a lot of information to get to your real question, which is what on earth do we do if none of the reasonable accommodations work?
Well, the answer is you fire this person.
And that answer sucks. There's nothing good about it. But, you hired them to do a job. If they cannot do the job even with support, they can't work there.
You should not move to termination without consulting with a local employment attorney who has experience with ADA and USERRA. There will be lots of boxes to check and conversations to have before you terminate employment.
I wish I had a rosier answer or some fancy trick you can use to come up with a solution when no reasonable accommodation exists, and if someone knows one, I'd be happy to hear it!
Image by Sage Scott from Pixabay