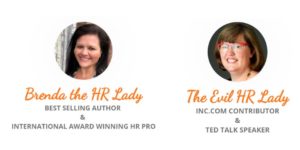 After being trapped in Europe by Covid, I'm finally free to travel back to the US! And everyone is so tired of sitting behind a computer screen, I decided to meet as many people as possible! I'll be fully vaccinated and ready to mingle and help HR professionals in PERSON! Did you know that's even possible?.
I'm coming to Baltimore, Dallas, and Provo with my Real HR Show Partner, Brenda Neckvatal, and our Winning in HR Tour.
Come join us and get HRCI Credit!
July 19, 2021, in Baltimore
July 21, 2021, in Dallas
Jully 22, 2021, in Provo
What you get
Three incredible sessions:
From Brenda: HOW TO WIN IN HR BY BEING INTENTIONAL
From Suzanne: HOW TO GET PEOPLE TO LISTEN TO HR THE FIRST TIME
From Brenda: ACTIVE SHOOTER TRAINING
Plus lots of laughter, a little snark, and great information!
For full information on the Winning in HR Tour, click here.
If you don't live in those regions, let us know where you'd like to see us and we'll consider your city for our next tour!