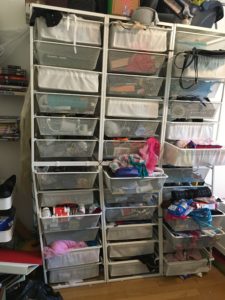 Offspring #1 loves to do crafts. These are her crafty supplies. Do you see a problem? As we were cleaning up her room today, I noticed that the shelves were swaying. Her first solution was to go out and buy new shelves. "Sure," I said, "with your own money." This, of course, was not an option for Offspring #1. Were there any other solutions?
We talked about zip-tying the shelves to her bed to keep them upright. Perhaps adding some poles for support and rebalancing the contents will work. That's what we're working on now. But, there's a genuine possibility that she will have to clean out some of her things. It's too much stuff and too much weight.
No matter how much we rebalance, sometimes the weight is too much.
HR has been like that in the pandemic. Granted, HR is always about balancing things and too much to do, but the pandemic has made experienced HR leaders start to lean under the weight. We try to throw things off, but they keep coming back.
Some from the Evil HR Lady Facebook Group shared this CNBC article called, "After 18 months of unrelenting change, HR is burned out, too." This paragraph stands out:
Since March 2020, armies of HR workers have been key to helping companies shift to remote work. They've been tasked with laying off tens of millions of workers, then trying to hire them back during a global health crisis. They've conducted survey after survey, drafted every type of business update and filtered down messages from the top, oftentimes bearing the brunt of negative feedback from employees.
This is us. And it's too much sometimes. And it can feel like managing Covid policy is a full-time job on top of our regular jobs. We're sick (no pun intended) and tired of it.
I got this comment from a reader:
Can we please get back to HR related topics, the posts and emails seem to be very one sided and political lately. I am honestly sick of it being a constant feed.
I would be happy never to mention the words vaccine, mask, mandate, direct threat exception, and quarantine ever again. It would bring me great joy. But, my job is to help HR be the best that we can be, and that means keeping up to date on all things Covid.
It also means some rebalancing and removing some weight. (Figuratively, although heaven knows the Covid-15 plus a month in the US did not help my actual weight.)
You have to let some things go, or you will fall over–just like those shelves. You can rebalance and shore up only so many times before the weight of everything comes crashing down.
What needs to go?
I don't know.
It depends on your company, your job, and your personal situation. One thing I did was hire a virtual assistant to help me manage my emails. That's throwing money at a problem, though, and that's not always a viable solution.
Sit down and go through a list of all the things you deal with and decide which ones are critical and which ones are nice to have. Unfortunately, your masking and vaccine policies are on the critical list, while the "fun" things may be on the nice-to-haves right now. Ask your bosses for the ability to outsource some things, if possible.
You can come back to some things later, but only if you don't fall over completely. It's time to take some of the weight off and rebalance.