I'll tell you the truth: I'm tired of cultural fit. It seems to have evolved into this "let's get around discrimination laws" thing. Yeah, I know some of it is valid. If everyone else in the company adores working in the office, hiring someone who hates the office makes no sense. If your culture is working 70 hours a week, then you want that right type of cultural fit by golly.
But this? This type of cultural fit assessment has to go: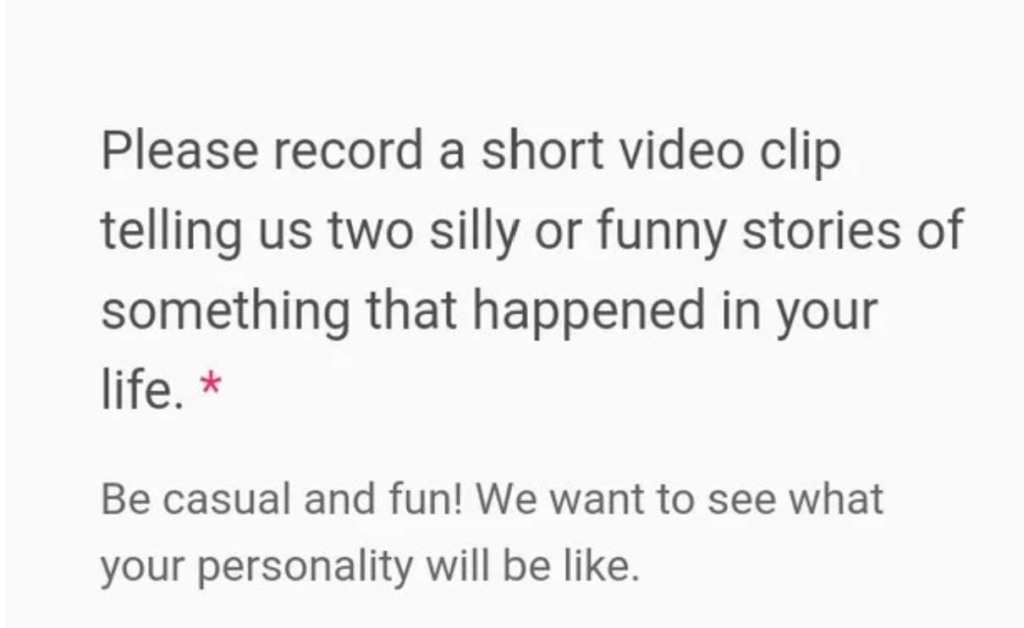 The text reads: Please record a short video clip telling us two silly or funny stories of something that happened in your life. Be casual and fun: we want to see what your personality will be like. 
Can we just say no to things like this? Unless you're trying to hire a comedian, this type of thing just screams, "we don't know what we are doing, but we sure love discrimination for random reasons!"
Do you know when you should assess a person's personality? In the interview.
I'm hilarious in person. (I swear…_)
Ask me to tell two short silly or funny stories on camera with no guidelines, and I may not come off that way. Plus, what is this job for? Yes, I do a lot of standing on a stage and speaking (or at least I did pre-pandemic and hope to do so again), so yeah, you want to know if I can tell a story.
But in my previous life as an HRIS analyst, this would have nothing to do with the job.
Stop doing things like this. It's off-putting to candidates. It doesn't help you find the right person (for most jobs).