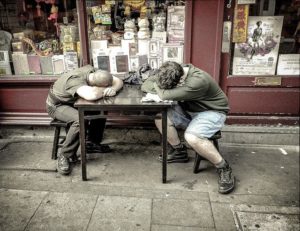 We had a conference that required us to work weekends. I worked two weekends in a row, plus the week. So, I worked 19 days straight when it usually would be 15. (3 weeks, plus two weekends.) My boss said I could take four comp days, but they had to be within 30 days. 
Can she do this? Is this legal?
We're missing one key bit of information about you: your status according to the Fair Labor Standards Act (FLSA). If you're "salaried exempt," the answer is very different than if you are "non-exempt." I'll explain the differences, and you can apply the answer to your situation. This answer also assumes you aren't working in a government job. The government likes to exempt itself from the rules they make the rest of us follow!
Salaried exempt employees. 
If you are salaried exempt, you get the same paycheck every pay period–regardless of how many hours you've worked. If you're salaried exempt, it doesn't matter that you worked 19 days straight–your paychecks are identical.
Your boss can grant you comp days if she wishes, but she can also put parameters around when you use them. It's perfectly legal for her to grant zero comp days and perfectly legal to grant four and require you to use them in 30 days.
There's some logic to the comp days within 30 days–because she would want you to use them to recover from the intense work period. While you might want to save them to add to vacation days (which is understandable), she wants you to recover. Plus, she doesn't want the liability sitting on her books.
You can always try to negotiate with her to take the days later, but if she won't budge, take the four days asap!
Non-exempt employees
If you're eligible for overtime pay–whether you're paid by the hour or paid a salary–she can't give you comp days in lieu of overtime.
That is, assuming you worked 8 hours a day for each of the 19 days and you are paid $20 an hour, then your paycheck would have to look like this:
Week 1:
Mon-Friday 8 hrs per day x 5 days x $20 per hour=$800
Sat-Sunday 8 hours per day x 5 days x $30 per hour (1.5x$20)=$480
Week 2:
Mon-Friday 8 hrs per day x 5 days x $20 per hour=$800
Sat-Sunday 8 hours per day x 5 days x $30 per hour (1.5x$20)=$480
Week 3:
Mon-Friday 8 hrs per day x 5 days x $20 per hour=$800
Total for 19 days: $3360
Your boss can absolutely grant you four days with pay off–or without pay–but you still get the overtime pay for every hour you worked. Overtime is calculated by the week. The only time comp days work for non-exempt people is when they are within the same work week.
In this case, comp time is extra vacation days, and again, while your boss can set the limits around when you can use it, you can ask for a variation.
But is this legal? Absolutely.
Speak to your boss, but keep in mind that after working 19 days straight, take the comp days ASAP to relax and recover.