Say what you will about Chick-fil-a, but their sandwiches are delicious. We just got a Popeyes here in Basel, and I had high hopes, but it is no Chick-fil-a.
Still, at least they aren't asking for volunteers to work the drive-thru lane as a Chick-fil-a in North Carolina is. Behold.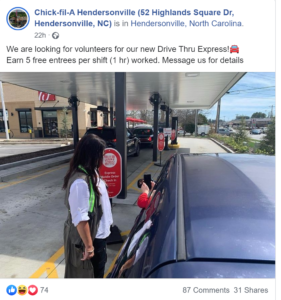 And the embedded post (which I assume they will take down as soon as someone from Corporate gets wind of this, which is why I made a screenshot.)
You cannot do this. Even if you want to declare yourself the Lord's chicken, you are still a for-profit business, and for-profit businesses cannot have volunteers. Not ever. Paying in sandwiches does not count.
Now, I can see why this might be appealing. You get five free sandwiches per shift worked which is probably a bargain for both restaurant and volunteer, but it doesn't change the fact that it is illegal.