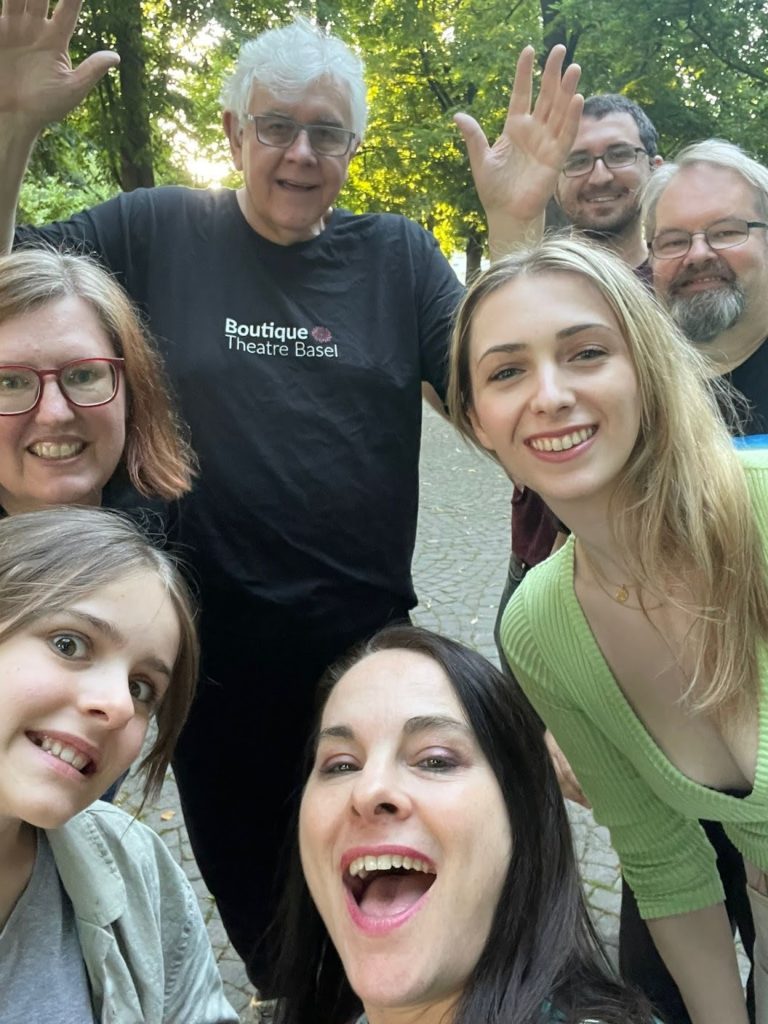 I'll be attending my second funeral of September today–third if you count Queen Elizabeth's.
While Queen Elizabeth's funeral was certainly much grander (and longer!) than any funeral I've attended in person, the dress code (minus the hats) is what I was used to in the US.
Men wear dark suits. Women wear dark dresses or nice dark pants.
I've attended five or six Swiss funerals in my 13 years here and one for a fellow ex-pat. Today's funeral is for my good friend Richard Brown who was part of my Improv Team. Richard is the larger-than-life man in the middle. He was hilarious, kind, funny, brilliant, and gone too soon.
While I'm not quite sure what to expect at Richard's funeral, as Richard was very prominent in the Basel Theater Community and this will be a celebration of life, with various performances by people he acted with, directed, and produced over the years, I suspect it won't be quite like QEII's funeral. After all, Richard produced Rent in Switzerland, and I know there will be performances from that production.
And yet, I suspect it won't be like Swiss funerals either.
Funerals are something with a rich cultural heritage in every culture. There isn't a "right" or "wrong" way to do it. There are culturally correct ways, but how things go is culturally driven.
Here are the (general) differences I've noticed between a Swiss religious funeral and an American religious funeral. (Admittedly, I've never been to a non-religious Swiss funeral.) And keep in mind, I live in the German speaking region, so the other regions may be far different. Still, I think the differences are interesting.
American: Deceased is "present" in their casket, which sits at the front of the church. Sometimes there is a viewing or wake before where you can see the deceased.
Swiss: No casket at the funeral. Even if the person is not yet buried or cremated, they don't bring the body to the church.
American: Majority buried (although, funeral directors think this will change).
Swiss: Majority cremated. (Even if you're buried, often you rent the plot for 20 years, at which point, you'll be dug up and cremated.)
American dress code: Men in dark suits, women in dark dresses or pants. Business formal attire.
Swiss dress code: Come as you are. Lots of jeans. Some suits and some dresses, but clearly it isn't a requirement.
American: Nice eulogy read by a family member
Swiss: Nice euology read by a family member
America: Religious message
Swiss: Relgious message
American: People follow from the church to the cemetery for burial
Swiss: Since there is no body at the funeral, if there is to be a burial, it's scheduled later in the day.
So while there are many many things that are the same, those small cultural differences exist. And they are okay. And if you want to hold your funeral in a different manner (a friend just told me that at her mother's funeral they handed out feather boas and tiaras, and I just informed the offspring I want everyone to wear crazy glasses to my funeral), go ahead.
I'm sure there are many people with PhDs in funeral cultures. Regardless, I look forward to celebrating my friend Richard's life today.