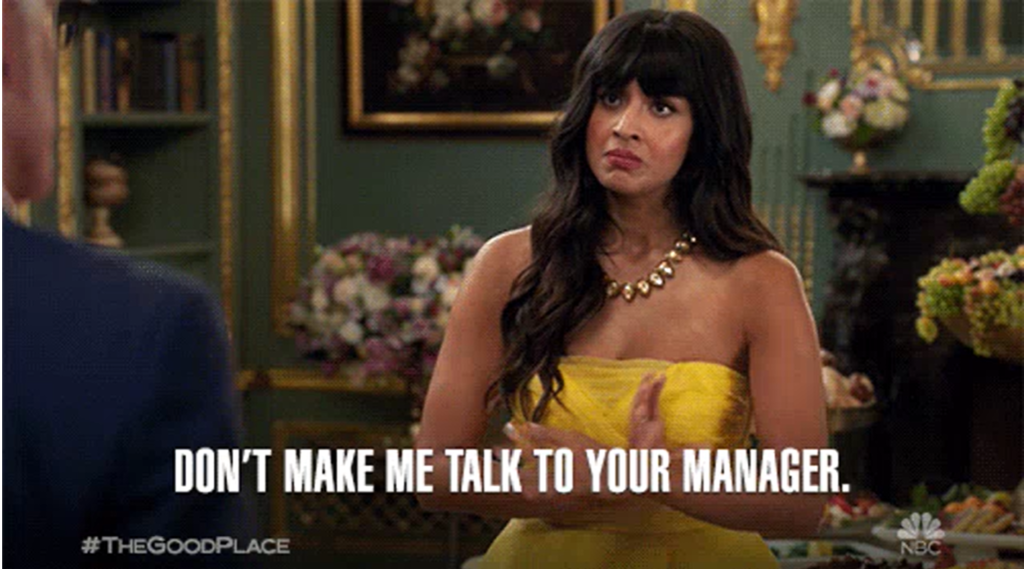 Surely everyone has heard the story of someone who comes in for a job interview, treats the receptionist poorly, and doesn't get the job.
That's how it should be. Everyone deserves politeness and respect–especially when you haven't met them before. (I'll allow you to not respect people who have earned a lack of respect through their repeated bad behavior.)
However, when someone has already been hired, do you fire them for the same bad behavior? In an attempt to avoid work, I was scrolling through Reddit and came upon this AITA post.
Right now im working on a travel project where i'm a surveyor. Our assignment right now is 100 percent travel so were staying in hotels, going out to eat alot more than normal. My current partner is Sam. We share a company car at the location for now and she is a nice woman who is good at her job and generally pleasant to be around.

However, whenever we go out to eat she turns into a mega karen and can be really obtuse towards waiters/staff. I've gone out to eat with her many times over the past few weeks, and every single time there has been a problem with her meal/drink. She always sends stuff back for no reason, or for the dumbest reasons. Is always demanding a discount at the end because she had to send stuff back or demanding additonal items. If the server refuses she always demands a manager and gets very curt and direct. I always just stare at my plate because im kinda embaressed. And no joke, this happens at every meal when we go out to eat.

I told her i wouldn't be joining her for dinner anymore and she asked why, i avoided it but she wanted an answer and i told her that her behaviour was embaressing. She got really mad and our work relationship is now strained. AITA?
Not only is the OP NTA she needs to report this to their boss.
Sam's behavior is 100 percent unacceptable.
Look, we've all had bad service or mistakes in restaurants. I hate mayonnaise, and sometimes it is very difficult to convince waitstaff that I really, really, really do not want mayo on my burger. But I'm always polite, and if it's in a country where I don't speak the language, I just suffer.
But if you find a problem every time and are rude, and demand discounts and want to speak with the manager, you're the problem. And I don't want you working for me or with me.
Anyone who behaves in such a manner–even if they are perfectly nice to coworkers and clients–needs to go. At a minimum, this would be a final warning situation.
Yes, you can argue that she's not on the clock and that what she does on her own time is her own business. And maybe in Colorado, where it's illegal to punish an employee for legal behavior off the clock, she could argue against termination. But I'd risk it.
Being a total jerk to service providers is not a protected class. Everywhere but Montana has at-will employment.
Am I too harsh? What would you do about Sam?