As I've mentioned before, Offspring 2 attends Swiss public school. He's in first grade and 6 years old. Cutoff for the school year is the middle of May, and so half of the class is 7 and the other half is 6. He's in the younger half. (In fact, he missed the cutoff by one day, but we petitioned the school board to let him into kindergarten "early" so that he would be more likely to learn the language, so he's the absolute youngest in his class.) Anyway, I want to be clear that these are very little kids. (Well, except for Offspring 2, who is at the 50th percentile in height and weight–for a 9 year old. He's always been big.)
Anyway, last week we got a note home asking us to send in the following this morning:
ein spitzes Messer mit kurzer Klinge (wenn möglich ohne Zacken)
ein Apfel-/Melonenlöffel oder ein Kaffeelöffel mit scharfer Kante
Now, I assume most of my readers don't speak German, so here's a picture of what I sent him: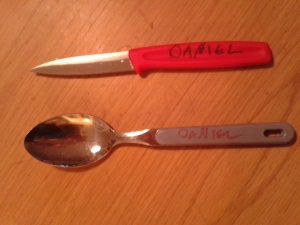 And, in reality, the spoon isn't quite what they asked for. It's neither a melon baller nor a spoon with sharp edge, but honestly, I don't own either one of those things, and I'm too cheap to go out and buy one for a school project. (That and I procrastinated pulling this together until 10 minutes before he had to leave for school.) They are carving Turnips for the annual "Räbeliechtliumzug." Translation? Lighted turnip parade. (Google Translate won't do it for you, as it's Swiss German and Google Translate doesn't speak Swiss German.)
Totally cool.
But, the whole thing makes me realize the stark contrast between the Swiss schools and the American schools. I'm afraid the police would be called if I sent him to an American school with a "sharp knife with a short blade." Of course, he probably would have been expelled from the public schools years ago for the "bomb" he made in Kindergarten. Since it was out of cardboard, paper, and glue, his kindergarten teacher just made sure he knew the German word for bomb. As a result, he's learned the important lesson that just because you call something a bomb doesn't make it a bomb. Also, that a bunch of 6 year olds are unlikely to cause death and destruction with paring knives. I presume the teacher has a supply of Bandaids on hand.
No real career advice (although, feel free to draw your own conclusions about what the utter paranoia and the inability to distinguish between real and imagined danger in America). Just a peek into life here.