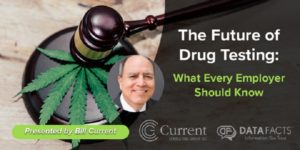 The Future of Drug Testing:
What Every Employer Should Know
Wednesday, January 12th at 2pm CT
1 Hour SHRM and 1 Hour HRCI Credit
Special Presenter Bill Current!
Join Bill Current, founder of the Current Consulting Group, voted the #1 recognized consulting firm in the drug testing industry, for a timely and informative presentation on what every employer should know about the future of drug testing.
Objectives:
The five most important things to consider when drug testing in 2022 and beyond.
Current drug testing trends, including which drugs to test for and the importance of detecting recent drug use in marijuana-friendly states.
How the only three drug testing methods approved by the federal government compare to each other.
How to strengthen the legal defensibility of a workplace drug testing program.
How to measure a drug testing program's return on investment.
To Register, click here: The Future of Drug Testing: What Every Employer Should Know