It's that wonderful present time of year! But businesses are hierarchical and presents go down and not up. See this horror of an example from r/antiwork.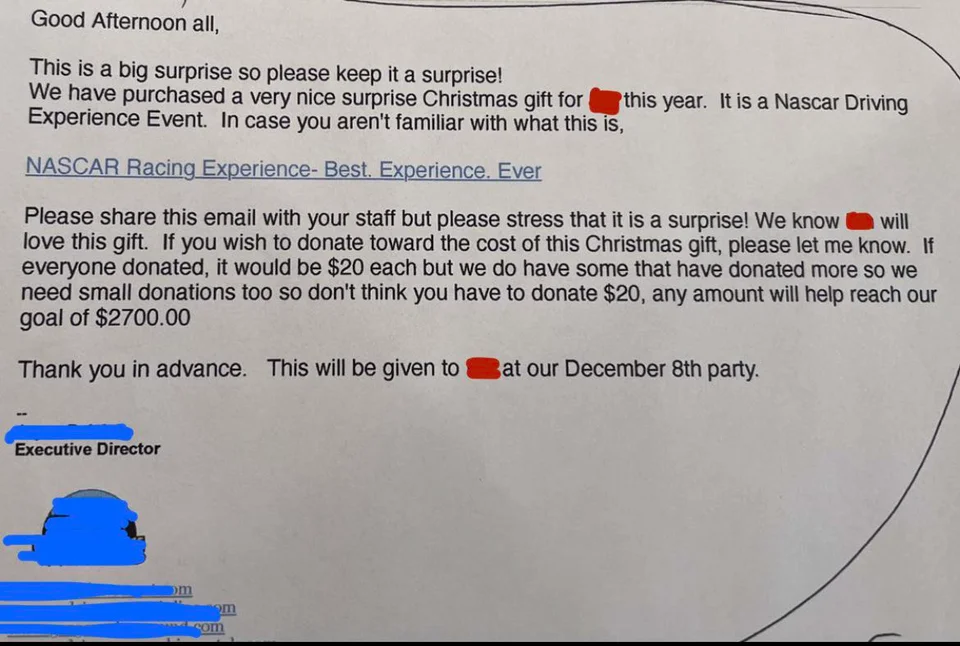 Do not do this. Ever.
If you absolutely, positively have to give the boss a present, it should be small and consumable. A box of chocolates, or a bottle of midgrade wine, with no one contributing more than $5 and completely voluntarily. A card is a better idea.
This is incredibly inappropriate.
If you are the boss, and your employees give you something like this, very politely reject it. Better yet, let people know that you will not accept any presents from them.
Your employees are not your grateful subjects. You should be grateful that they work for you.
No presents for bosses. Especially no expensive presents. And yes, $20 is a lot of money for a lot of people.
Someone talk to this Executive Director and tell them to knock it off.
---
But, if you're a boss, and want to get your HR people a present, can I recommend training?
HR Web Advisor does webinars on all your HR needs and Evil HR Lady readers get 20 percent discount with the code evilhrlady!
To get your discount, go to HR Web Advisors, select your class, and at checkout, enter code evilhrlady at checkout! You'll get your 20 percent discount! That's huge! You can still enter the code even if your company is paying for it!
You can get HRCI and SHRM credit for most courses, so this is a cheaper way to get credit! Plus, the info is top-notch.