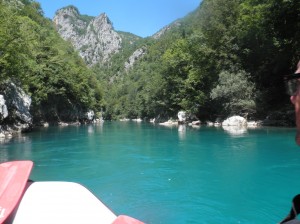 You may have noticed that I was pretty silent in the month of July. That was because I went on vacation. Not that I traveled for the whole month. The first two weeks were spent taking kids to swimming lessons. (Nobody ever warns you about that part of motherhood–that you're expected to teach your offspring to swim, and that it involves going to the pool every day for weeks.) The second two weeks we did travel.
We were looking for adventure, so we flew to Split, Croatia. We spent a few days in Split, and Dubrovnik Croatia. Beautiful. Amazing. Hot. Then we headed down through Montenegro to Albania. Why? Because we're crazy. Also because it was where the closest congregation of the Church of Jesus Christ of Latter-day Saints was located. Our rental car insurance wouldn't allow us to drive into Albania, so we had to hire a taxi driver to take us. Adventure! Also, best food of my life at this restaurant: Hotel Tradita. Holy cow, I may have to go back to Albania just for dinner.
Then we headed back to Montenegro where we had to keep climbing up things. Seriously, everything was at the top of the hill. But then we went white water rafting down the Tara river. The water was so clear you could see all the way to the bottom even when it was 4 meters deep. The guide assured us it was so clean you could drink the water, which he did. I didn't, but I'm wimpy.
Then it was on to Bosnia-Herzogovina where we saw landmine fields and had amazing food and met awesome people.
So, we did travel a bit and we are a bit crazy. And now vacation is over.
Back to work!